TOP SECRET BEACHES
Paradise Beach
Paradise beach or ''Chomi'' lives up to its name and it is one of the most majestic beaches of Corfu. It is a secluded beach accessible only by boat and is located on the north-west shore of Corfu near the famous Palaiokastritsa. Large ,high white cliffs meet the blue crystal water of Ionian sea and in between a pebble virgin beach,the ideal place for the most stunning pictures. On the northern side of the beach, you will find an underwater cave ,one of the many that you will come across on your tour along the coast.
Paradise beach is an utterly virgin place so make sure to equipped with all necessities for your summer day cruise. You can reach this heavenly beach by boats from local ferrymen from Palaiokastritsa or Liapades or you can rent a boat yourself. Make sure to visit also the equally amazing beaches nearby at the same coast, Stelari , Liniodori and Giali Beach for the most amazing day spent on the island of Corfu.
Distance from Ipsos:
Palaiokastritsa 16km – 15 minutes by car
Liapades 14km – 15 minutes by car
Porto Timoni
Porto Timoni is the mythical place where according to Homer , Odysseus met secretly with Nafsika. It is a well-hidden treasure beach near Afionas village that turns your visit to a unique adventure since one way to reach it is by following a path that begins from Afionas square and lasts approximately 20 minutes. On the way prepared to be amazed by breath taking view to sea as far as the eye can go for the most memorable pictures.
Porto Timoni beach is separated by a narrow strip of land into two beaches that they surprisingly differ on the water temperatures. Dense hill leads you to pebble sandy beaches with crystal crear blue waters ,that have maintain their beauty through the year since no car can reach the area. It is an unorganised beach, therefore make sure to be equipped with all necessities such us water and snacks ,umbrella, chairs etc. for your comfort. A small tip ,whether you stay late at Porto Timoni you can admire the amazing sunset from the beach,or visit the picturesque village of Afionas.
Distance from Ipsos:
Afionas : 28km – 31 minutes by car
Erimitis & Avlaki
Erimitis is a hidden jewel that every adventurous visitor should definitely visit. It is located in the north- eastern part of Corfu near Kassiopi and Agios Stefanos , right across Albanian shores and it is accessible only on foot. Equip yourself with all necessities and begin the exploration by following the path that starts from Agios Stefanos in Sinies for about one and a half hours walk. On this unique journey be ready to enjoy amazing greenery landscapes with dense vegetation and a complex of three lakes Vromolimni, Akoli, Savoura that has a great ecosystem value for our island since it is the home of many rare animal species.
Follow the signs and you will also discover isolated unspoiled beaches like Vouvalomantria, Vraxli,Tzoufakia ,Arias ,Akoli, Vromolimni ,Avlaki with the latter having emerald crystal clear waters that surfers prefer. You can certainly rent a boat and have the chance to visit them all.
Distance from Ipsos:
Agios Stefanos 19,7km – 22 minutes by car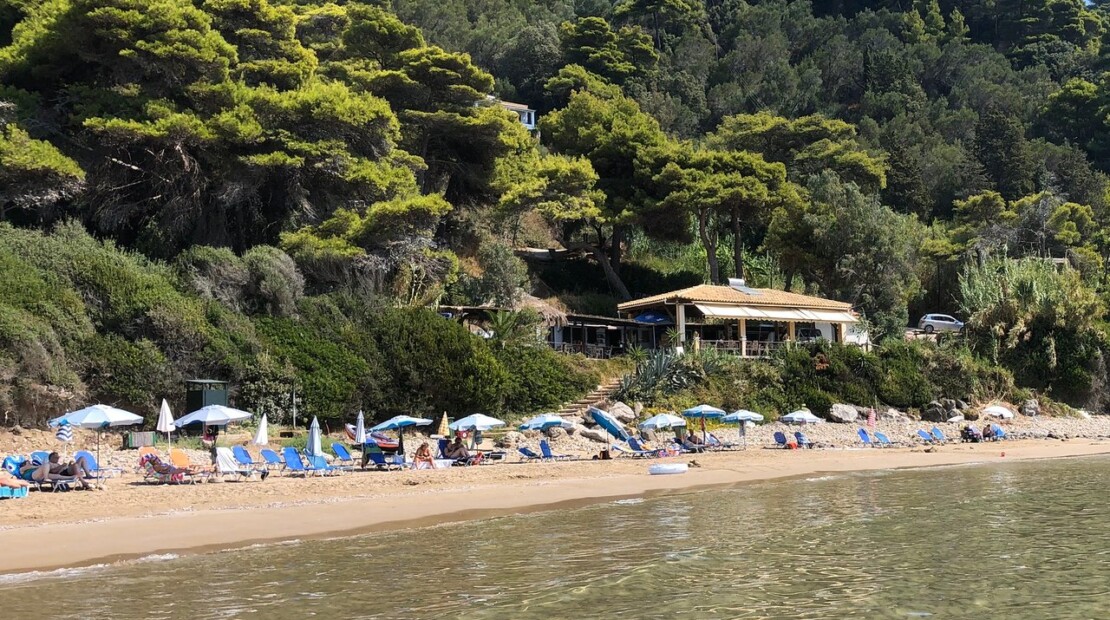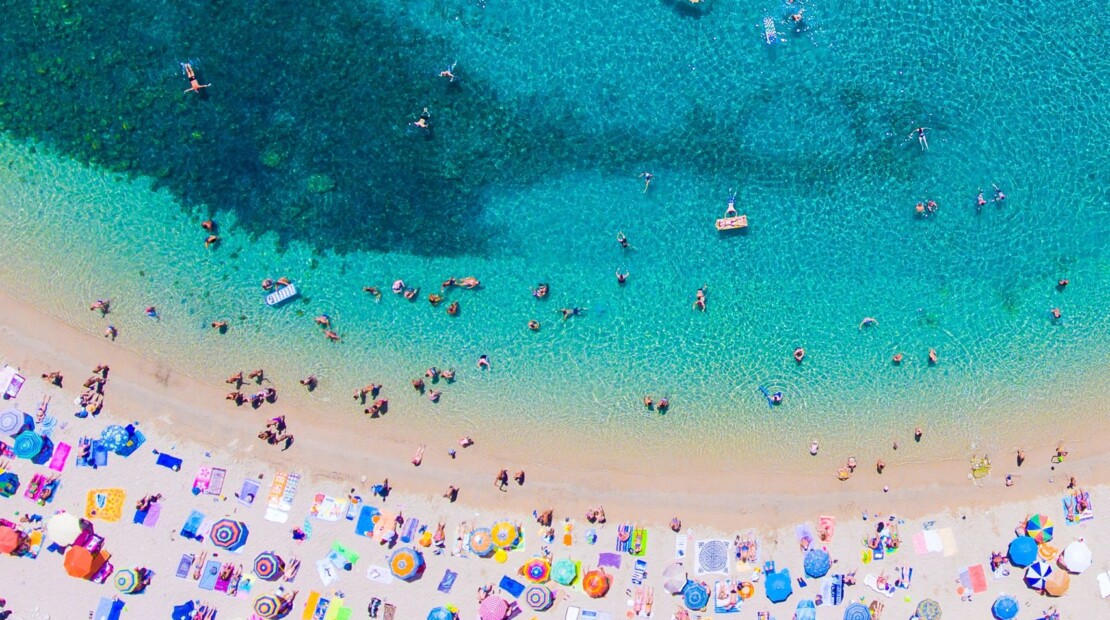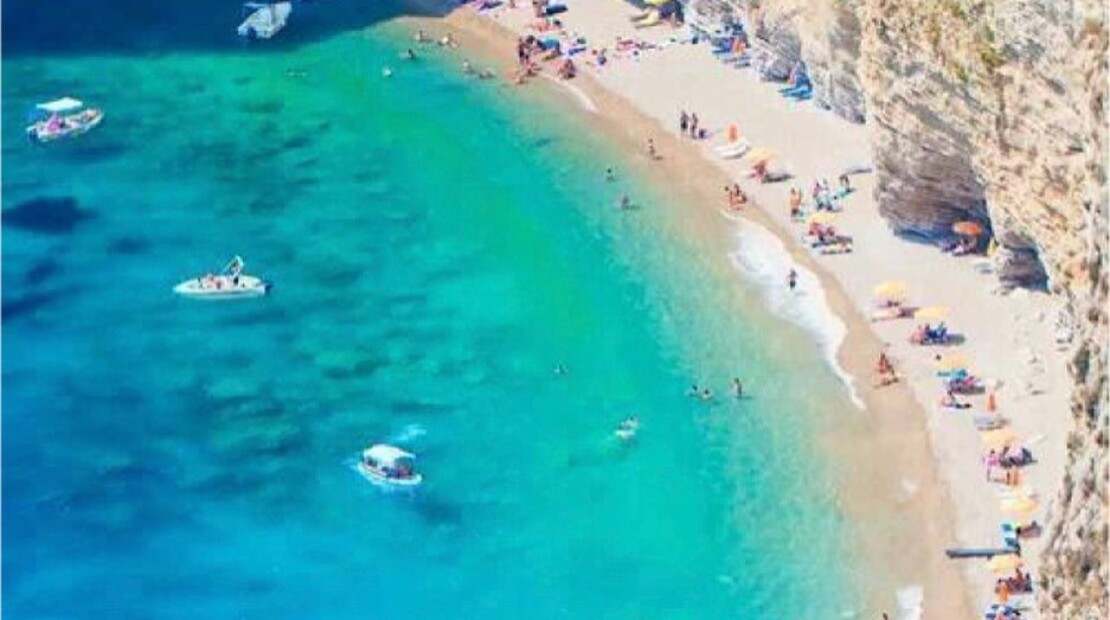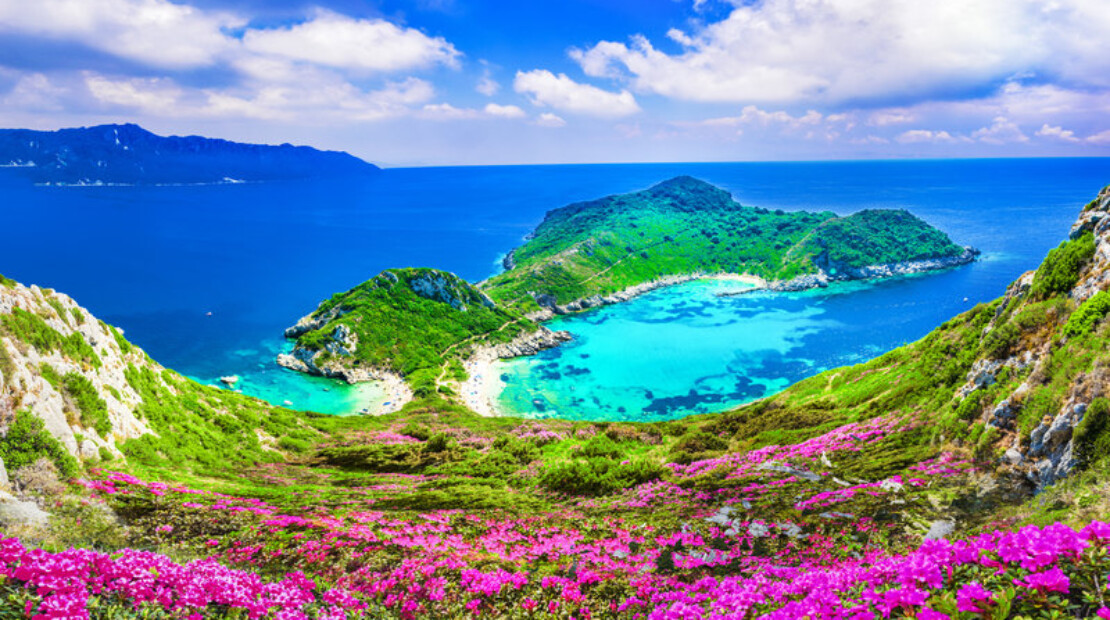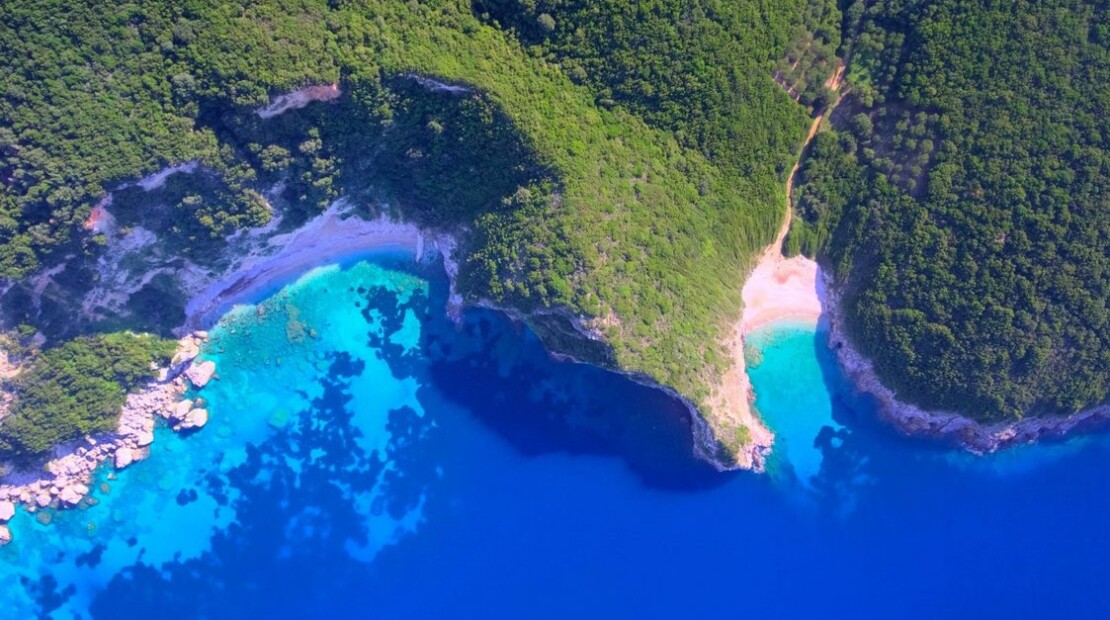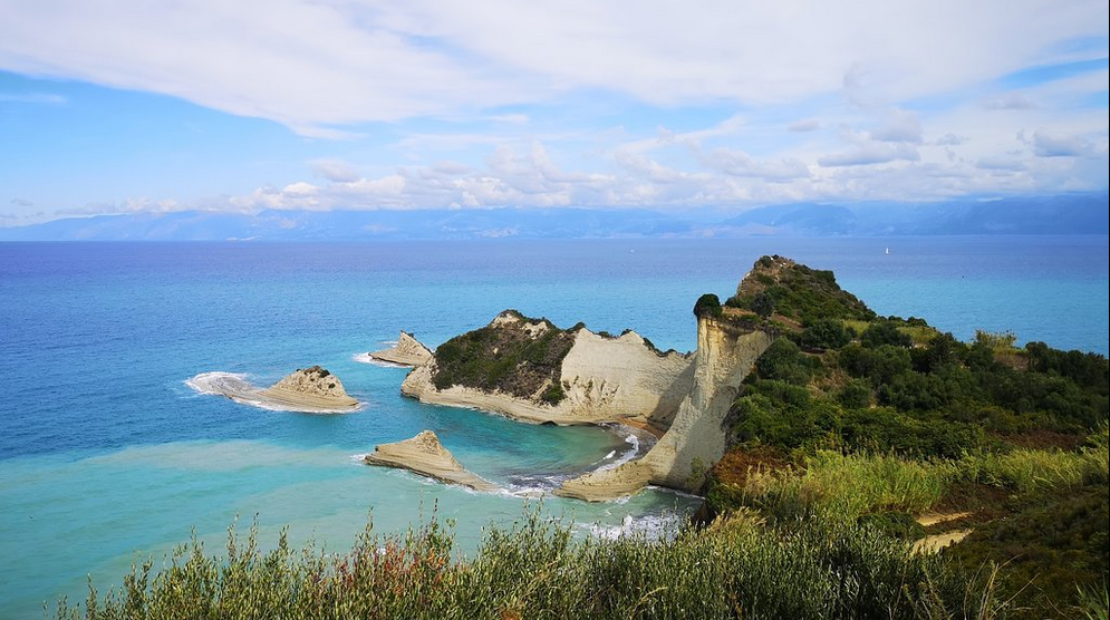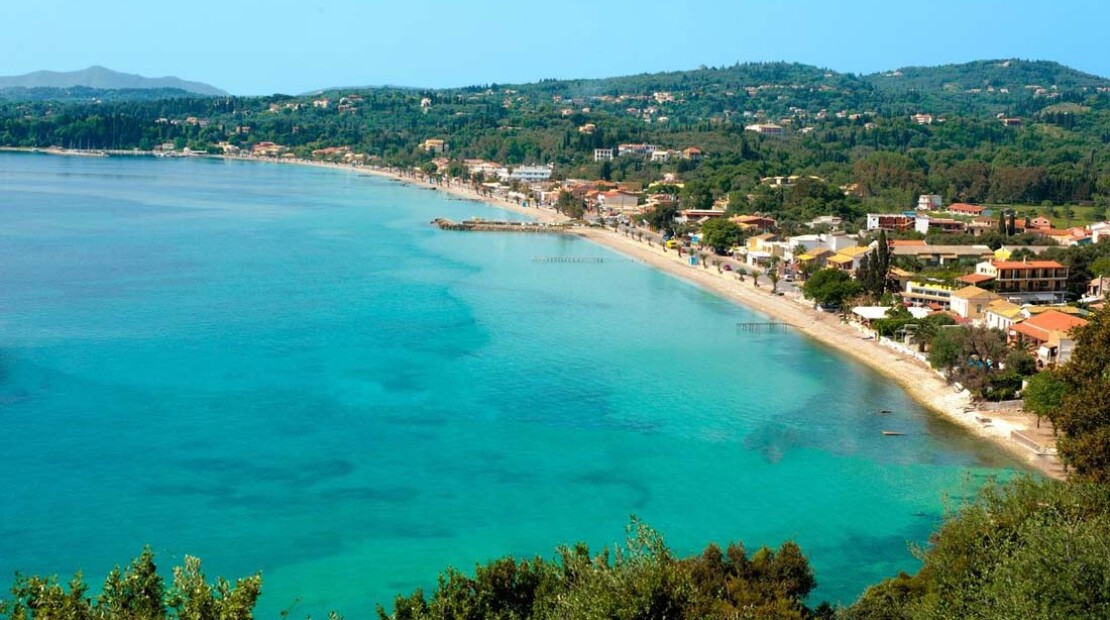 Rovinia
Rovinia is one of the most magnificent hidden beaches in Corfu,a hidden paradise just 2km away from Liapades and remains still unspoilt with no human intervention.It is a small petal shaped beach surrounded by grandiose rocks creating in one side a small but majestic cave that offers shadow to the visitors. Small pebbles with soft sand and turquoise seethrough waters that deepens gradually and create the perfect scenery for relaxation.
Rovinia is accessible either from the sea by renting a boat from Gefyra beach(Liapades) , Palaiokastritsa or by car to some point and then by hiking a short downhill from there approximately 10 minutes.It is one of the many secluded and unorganized beaches in Corfu, therefore you need to prepack all essential to enjoy your day there. Though surprisingly there is a small boat that comes in the bay to sell frappes and ice creams or peanuts.
Distance from Ipsos:
Liapades 14km – 15 minutes by car
Gialiskari
Gialiskari is a small peaceful beach on the western side of our island, near Glyfada and Kontogialos the most cosmopolitan beaches in Corfu. This beach is characterized by astonishing exotic landscapes,palm trees and lush green setting combined with blue crystalline shallow waters,a location that protects the visitor from the strong winds on this side. The soft sanded beach is set with parasols and sunbeds that are offered for no extra charge for the guests of the 2 tavernas nearby, where you can taste delicious sea food delicacies. Overall Gialiskari is a well organised small beach where visitors can relax, unwind and refresh on a rocky background that offers shade, away from noises, ideal choice for couples or families.
Distance from Ipsos:
Glifada 18,2 km – 20 minutes by car
Cape of Drastis
Cape of Drastis is located in the most Northern point of Corfu and is a must-see place that guarantees outstanding views. After visiting the famous Canal D' amour make sure to not miss this enchanting cape with natural scenery incomparable to any place on this island. We definitely recommend you hire a boat and sail around the cape where you can also find in between the superb cliffs numerous small beaches perfect for diving and snorkelling. Drastis captivates you by the beauty of the surroundings and allows you to enjoy on your privacy the transparent blue water along the way and if you are lucky enough you will come across sea turtles and dolphins.
Discover this unique place also by car to Peroulades square and then by walking down a path that leads you a small bay with access to swim, sunbeds and a little place where you can get drinks. Drastis truly enchants you with the unique rock formation of the cliffs, amazing colours of the sunset and the sounds of nature and sea, the perfect scenery for the most unforgettable day in Corfu.
Distance from Ipsos:
Drastis 32,1 km – 33 minutes by car